Quality Legal Services: Estate Planning, Probate, Trust Administration and Litigation
Remote and in-person meeting options available.

Estate Planning
We provide a full array of personal planning services for individuals and families.
Our goal is to help clients achieve individual and retirement planning objectives and charitable giving while preserving and distributing assets to beneficiaries in the most tax/cost-effective manner possible.

Probate Services
The Law Offices of Kristen R. Gross handles most matters in the Probate Court from the administration of decedent's estates, to conservatorships and guardianships for incapacitated persons, to representation of beneficiaries or trustees before the court. The firm has also represented family members seeking to be appointed as guardian for a family member with a developmental or intellectual disability.

Trust Administration
We assist clients with:
Trustee notifications, notices to creditors, asset identification, inventory, and valuation, asset and liability allocation, transfer document preparation, management and preservation of all Trust assets, Distribution and termination advisement.

Probate & Trust Litigation
We assist clients with a comprehensive array of Probate and Trust Litigation matters including Estate Litigation, Modification of Trusts, and Claims Against Fiduciaries.
Kristen R. Gross
FOUNDING MEMBER & OWNER
Kristen's practice focuses on the areas of estate planning, probate and trust administration and litigation in those same areas.
VIEW BIO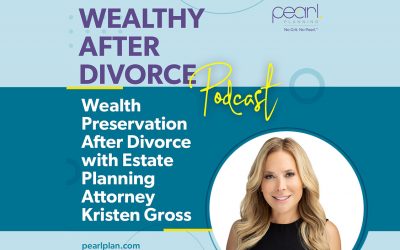 Kristen R. Gross talks with Jacqueline Roessler, CDFA®, host of the Wealthy After Divorce Podcast about why it's critical...
read more
Thank you so much for your patient professionalism...
in helping walk us through the process of developing our trust. You are a very pleasant person to work with and I'm delighted to recommend you after our experience with your firm. We are anxious to recommend you and look forward to doing business with you again as we amend our agreement and consider future business ventures.
S.B. and E.B
Thank you for helping us...
figure out life logistics in the least painful way possible. We dreaded dealing with our estate plan, which you made an enjoyable experience. We especially appreciated the touch of humanity you brought into meetings, phone calls and emails.
G and B
You made a seemingly daunting task pleasurable
I just wanted to take a moment and thank you.  Thank you for doing a great job preparing my will and Trust.  You made a seemingly daunting task pleasurable.  I had been meaning to get this goal accomplished for a long time and I am glad that I selected you to finally complete it.  I appreciate your knowledge, wisdom and expertise.
RG, Royal Oak, Michigan